Winning the Game Holidays #2 with Time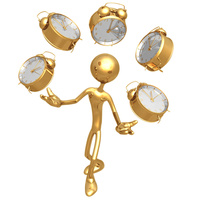 Okay, so enough time has passed since the first Gamify Your Life blog on the Game Changer called 'Space". Here is the next installment on Game Changers…it's the sub game called Time. Every game is played in a time frame. If the coach or manager doesn't handle time well, they find themselves in the position of not being able to make the moves they want to make. So in Gamifying your Holidays, a key player is Time.
"Tiiiiiiiiiime  is on your side, yes it is…."
Except it certainly doesn't seem so when the holiday crunch comes along. Addressing the time element in your life is not about how to carve out more time or warp in some extra time out of your calendar like trying to carve a turkey to get more meat. It's about having enough space in your calendar all year long.
Yes, I know that's a radical proposition but if we look at how we're living our lives the rest of the year we can see that we have set it up to do nothing but crunch when the holidays come. So having plenty of 'white space' in the calendar as a general practice throughout the year allows for the crunch time of the holiday season to simply have enough room to accommodate it easily.
Think about what happens at holidays. At the end of the year, on top of an already too busy schedule, you have parties you go to and/or throw, and to buy stuff for. Time becomes more and more compounded and we try to multi-task to beat it. But it doesn't work.Then there's the normal accelerated end of year work demands for completion as well as whichever personal completions on your list. Now add in the factor of visiting friends you haven't seen all year.
Then there's the insane activity of buying gifts when everyone else is shopping which makes everything take longer. Even if you shop online it takes time. Plus you may be sending gifts as well and if you package them yourself having taken advantage of Black Friday (also known as Night of the Living Dead: the Shopping Mall). Then the lines at the post office rival those for the next iphone or Twilight/Potter/Star Wars movies. The amount of Time Sucks around the holidays is endless.
Meanwhile there's all the time that you spent going to stores to take advantage of Black Friday and other sales, and you know as well as I do that the traffic component is compounded. So where do we get all this extra time? Is there a magic bean for it? Nope, we simply pressurize ourselves to suck it up and live through it. Which is sad because there's actually an easier way.
The new experience?
It's simple. Live a white space life. Scheduling in more white space during the rest of your normal year will not only pay dividends throughout the year but it will also reap high profits at the end of the year, when time is seeming more taxed. And you might even have time for a vacation. Imagine your Gamification of the Holidays producing that kind of space.
Give yourself more time during the year and the end of the year simply fills in the white space temporarily without feeling like it's fighting for space like a piranha coming across a cow in the Amazon. It does this because there's room in the Closet of Time to hang it up.