Hungers
Discover Hidden Motivators and
Take Charge of Your Life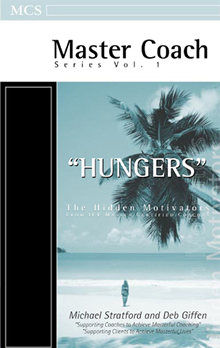 Hungers: The Hidden Motivators
Print Edition or eBook by Michael Stratford
What If
There was something that kept derailing people's actions, goals, vision and dreams?
What If
That something was able to be addressed as completely as breathing addresses our body's requirement for air?
What if
That same something was one of the most powerful motivators we have, and if used well, could propel us to realizing our vision, mission and purpose in the world?
Hungers: The Hidden Motivators by Michael Stratford is about just that. First discovering what they are and how they work. Next, making sure they are fed, and fed well. Finally, using their energy to achieve what our soul has brought us here to do, our life's work. This book is for coaches, their clients, and for anyone who wants to be more in charge of how their life works.